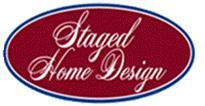 "Stage to Sell, Design for Living"

Did You Know. . .

STAGED HOMES sell faster. 97.5% of our Staged Homes sell on average in 37 days or less!

LLOYD AND ASSOCIATES offers professional home staging services through its affiliate STAGED HOME DESIGN. STAGED HOME DESIGN is a premier full-service Staging and Re-design Company which serves Washington D.C., Maryland and Virginia.

Our courteous Accredited Staging Professionals serve Sellers, REALTORS, Builders, Consumers, Businesses and the real estate industry. Staged Home Design provides quality, efficient staging and re-design services for your home, business or home office.

What is Home Staging?
Home Staging is preparing your home for sale to attain top dollar. A home staged by a professional stager sells faster and for more money!
Stage to Sell
Home staging is essential to preparing your home for market --our creative home stagers will transform your home, creating a powerful first impression that will capitvate buyers, resulting in quicker sales and higher profits.

Staging your home will create a welcoming atmosphere of style, openness and vibrancy that flows from room to room -- imposing a striking impression on potential buyers, while upstaging the other houses on the market in your neighborhood.
Home Staging is not only a crucial element of marketing your home to sell, but it's affordable.
- - The cost to stage your home is typically less than your first price reduction!
Stage for Living

Our professionals will re-design your current home for living; creating a new and fresh look in your home or office. We will shop to select the perfect furniture and accents that fits your lifestyle.

Staged Home Design Services include but are not limited to:

• Home Staging
• Vacant Home Staging
• Stage for Living
• Commercial Staging
• Event Staging
• Staging Consultation
• Real Estate Services

Whether you desire a few minor modifications or a full interior makeover, Staged Home Design will deliver!

In this competitive market, give yourself the edge. Call today to speak with one of our professional stagers at 301-577-2219.